New Harley-Davidson 2019 Harley-Davidson Freewheeler in Baltimore MD — Trike for Sale in Baltimore, MD
2019 Harley-Davidson Freewheeler in Baltimore MD — Trike
2019 Harley Davidson Freewheeler
The 2019 Harley Davidson Freewheeler is one of two trike options currently offered by Harley-Davidson. Drivers in Baltimore Maryland who want to buy a vehicle that has the iconic class of a Harley paired with the added stability of a three-wheeler will love all that the Freewheeler trike offers. This model is notably different from the other three-wheeler offered by this automaker because it has a lower profile. This profile is characterized by bobtail fenders and mini ape hanger handlebars. If you are in the market for a three-wheeler, make plans to stop by Harley Davidson of Baltimore serving Laurel Annapolis Frederick Bel Air soon to get more information about the Freewheeler and to take it out for a spin.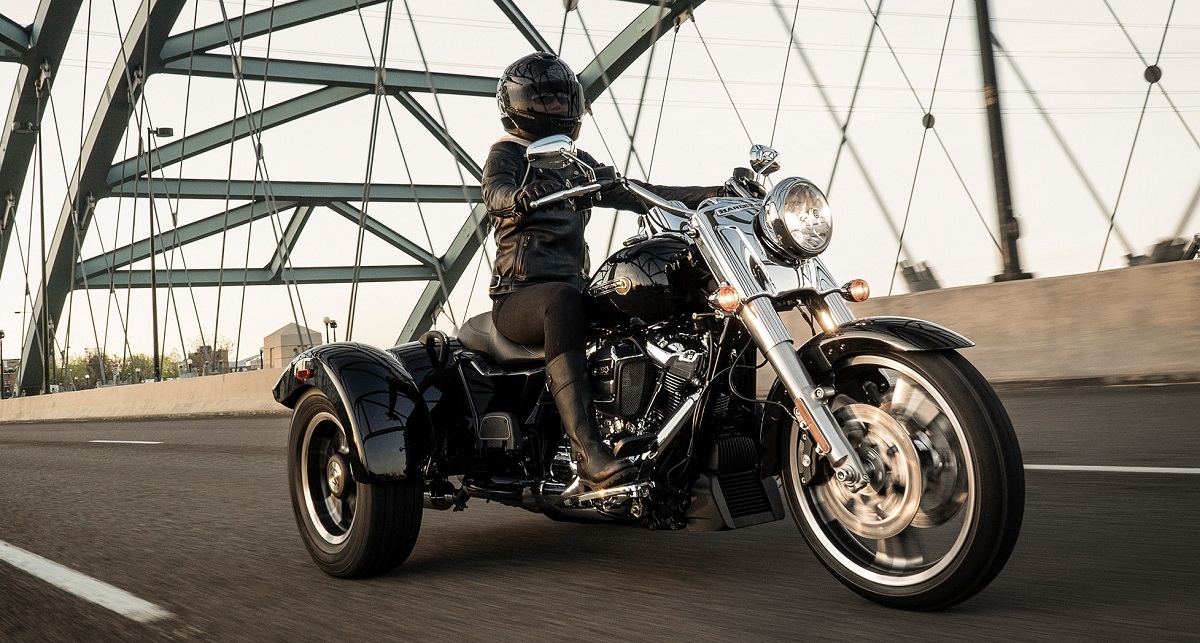 Eye-Catching Design – 2019 Harley Davidson Freewheeler
The 2019 Harley Davidson Freewheeler is designed with the classic look of a powerful hot rod, and it also uniquely provides you with the confidence and stability that comes with a trike. The Freewheeler trike has bobtail rear fenders over the tires to create the appearance of smooth, powerful lines. Sitting between the fenders is a large storage area with a locking mechanism for functionality. The smooth surface of this storage area gives the trike a modern, clean look. Directly below the cargo area are two chrome mufflers. This dual design with an angled, slash-cut appearance adds a powerful touch to the trike's rear. The design of the Freewheeler trike is further enhanced by Enforcer wheels with a cast aluminum finish. The brake rotors are enhanced to create a mechanical, rugged look to the trike. Between the mini ape hanger handlebars, you will find a chrome headlight nacelle with a classic round shape. This design can accommodate an optional windshield. Chrome front forks as well as chrome finishes throughout the engine's components take the look of the Freewheeler to a new level. Our sales team at Harley Davidson of Baltimore is thrilled to have the opportunity to tell you more about this trike when you stop by for a test drive.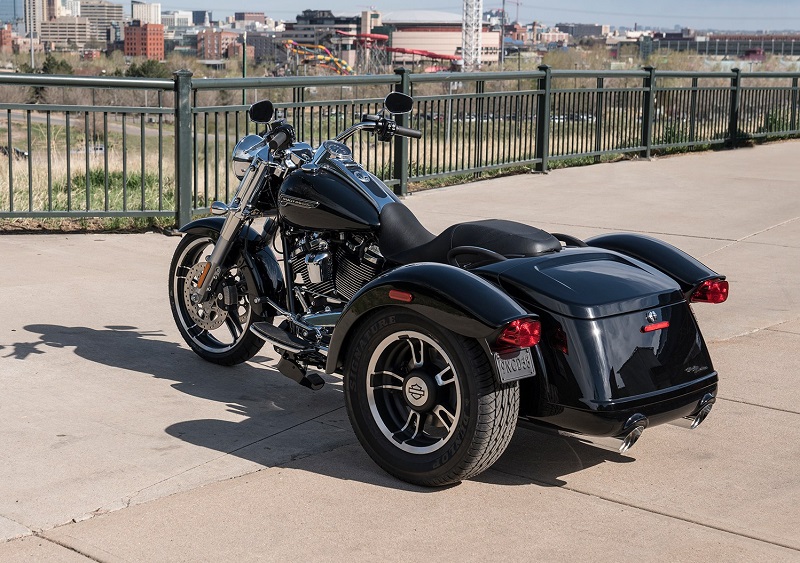 A Smooth, Powerful Ride – Harley Davidson Freewheeler near Baltimore
The stability of the 2019 Harley-Davidson Freewheeler is only one of the many reasons why this trike may be at the top of your list of contenders. This is a brand that is well-known for providing its drivers with an awe-inspiring ride, and the Freewheeler will not disappoint you in this area. As you cruise around in Baltimore Maryland atop this trike, you will benefit from an air-cooled 114-cubic inch Milwaukee 8 powertrain. This is a V-twin engine that offers 105 foot-pounds of torque and that is paired with a six-speed transmission with reverse capabilities. Your ride is enhanced by features like anti-lock brakes, traction control, 49mm front forks, a rigid front end, a steering damper, a premium touring suspension specifically designed for a trike and more. The best way to experience what the 2019 Harley Davidson Freewheeler offers is to stop by our dealership serving Laurel Annapolis Frederick Bel Air soon to take this trike out on the open road.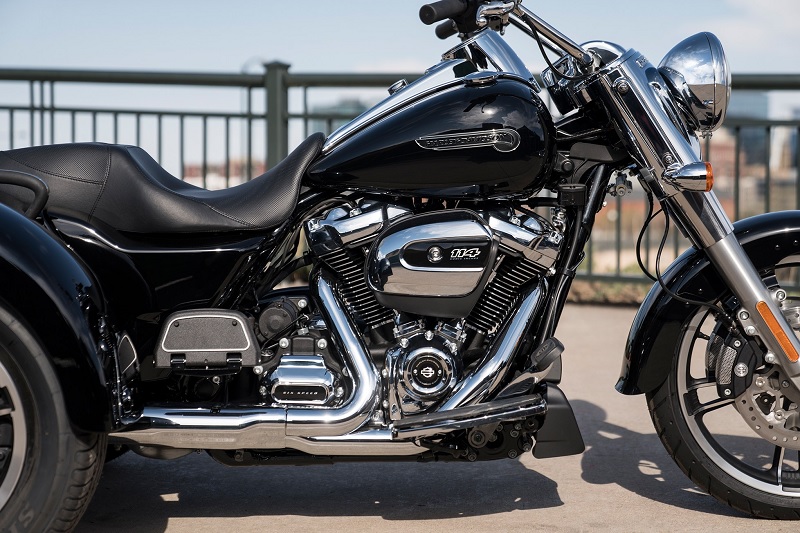 Impressive Features – Harley Davidson Freewheeler near Baltimore
If you are thinking about taking the Freewheeler home soon and cruising around in Baltimore Maryland frequently on it, you understandably want to know more about how well-equipped this vehicle is. The Freewheeler has been designed to give drivers the power of a Harley-Davidson bike in a three-wheel form while adding a few extras for improved comfort and functionality. For example, the storage box at the rear of the trike open to the side with an easy movement that only requires one hand. This box is large enough to accommodate two helmets easily. The unique angle of the handlebars and their sure-grip design promotes easier movement as you maneuver the trike through town. Footrests are available for the driver as well as for a rear passenger. The driver enjoys a contoured seat for maximum comfort while the passenger benefits from an elevated seat that enables visibility over the driver's shoulder. Standard equipment is black leather seating. These and other standard features are on display at our dealership serving Laurel Annapolis Frederick Bel Air customers, and our sales team is excited to tell you more about them when you stop by for a visit.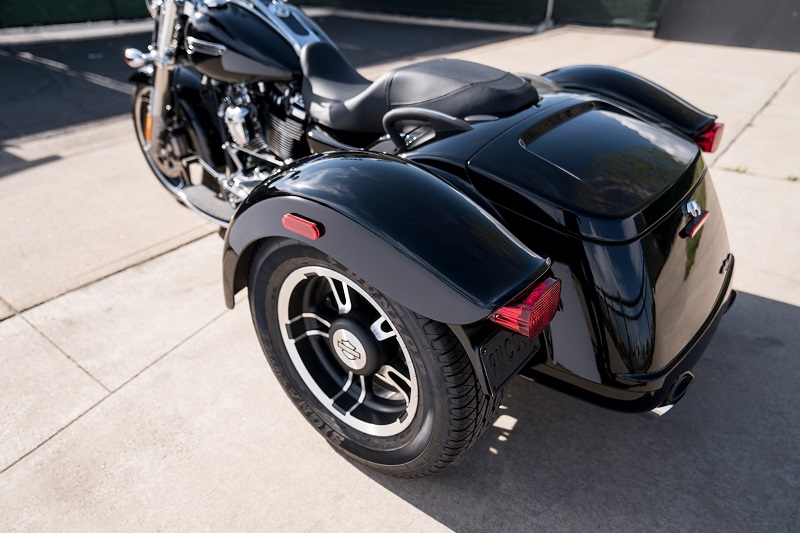 Freewheeler Customization Capabilities – 2019 Harley Davidson Freewheeler dealer
As is the case with other trike and motorcycle models produced by this company, the Freewheeler can be impressively customized to suit your unique style. This begins with your selection of an exterior color, and a few of the options include wicked red denim, white pearl, blue max, scorched orange and others. Customization with the addition of various accessories can enhance your comfort on the road, add functionality to the trike and even improve performance in some cases. Some of the many customization features available for you to choose from include an air wing luggage rack, a quick-release sissy bar in chrome or black, a switch cap kit, a sundowner sit, LED taillights, a transparent paint guard kit, a 16-inch or 20-inch detachable windshield, a trunk guard, an engine guard mounting bracket, lower fork sliders, indoor and outdoor covers for superior protection, upgraded tires, a cool flow fan, turn signal extension caps, wheel center cover kits and many more. You can explore the customization capabilities in detail online, or you can request information about the various components available during your test drive.
If you are in the market to take home a new trike soon, it makes sense to take a closer look at what the Freewheeler for 2019 offers. This is a stunning trike that is well-suited for drivers who demand the performance of a Harley as well as the comforts and easy maneuverability of a trike. Our sales team at Harley Davidson of Baltimore is looking forward to meeting with you soon and telling you more about what you can expect from the Freewheeler. Drop by for a test drive at your convenience, or contact us today by phone or email for more information and to set up an appointment.
*Article for general informational purposes. For complete details, please contact the dealership.