New Harley-Davidson 2019 Harley-Davidson Heritage Classic near Laurel MD for Sale in Baltimore, MD
2019 Harley-Davidson Heritage Classic near Laurel MD
2019 Harley-Davidson Heritage Classic
If you are ready to cruise around on a new motorcycle that has legendary class and impressive performance capabilities, a closer look at the 2019 Harley-Davidson Heritage Classic near Laurel will not disappoint you. This is one of the higher-end models in the Softail line, which beautifully carries on the tradition of this iconic brand through exceptional style and detail while incorporating modern elements that you will love. Contact Harley-Davidson of Baltimore serving Laurel Maryland and other nearby communities today to make plans for a test ride of this impressive motorcycle.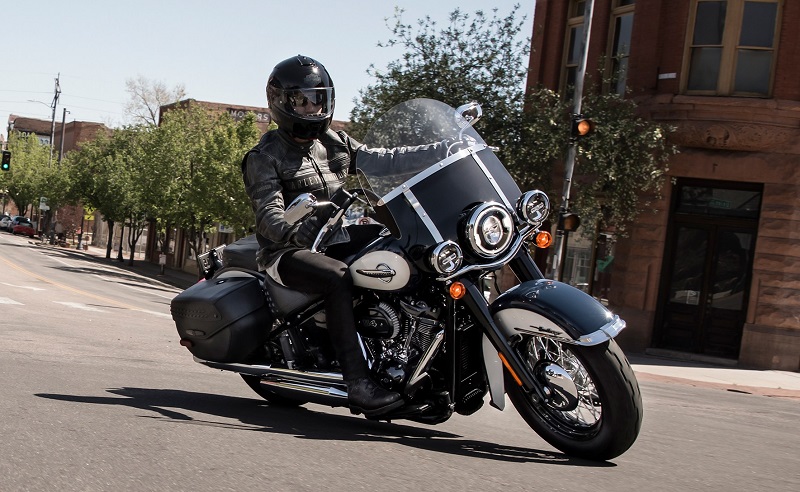 Beefy Style Accented with Nostalgic Elements
During your test drive appointment at our dealership near Laurel Bel Air Annapolis, you can easily compare the 2019 Harley-Davidson Heritage Classic against our other models. The new Heritage Classic has elements from front to rear that honor the brand's lengthy history. At the front end, three round LED headlights with chrome finish sit atop a chrome character bar. Above the lights, you will find a black wind guard with chrome supports bolted into it. A throwback fender covers the extra-wide front wheel with a machined design. A black fork fades upward into the handlebars, which have old-school side mirrors with chrome trim. The fuel tank features the brand's logo and fades sharply down into a molded seat with chrome accents. These same accents add character to the black leather saddlebags on both sides of the rear wheel. The exposed engine components have a machined look that combines black and chrome coloring, and the staggered dual exhaust pipes in chrome give the Heritage Classic a powerful look. Some of the body colors available for the 2019 model are silver flux with black fuse, kinetic green, wicked red with twisted cherry, billiard blue with white and other gorgeous options.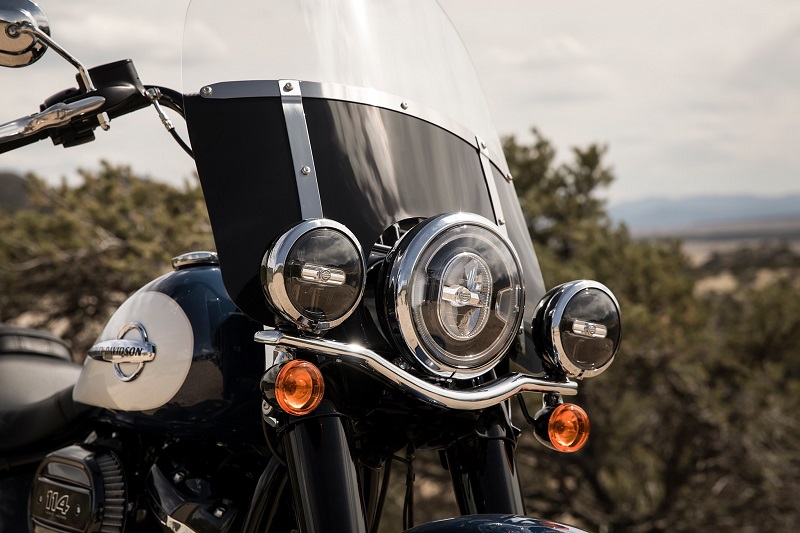 Exhilarating Performance Capabilities
You understandably expect great things from your new Harley-Davidson motorcycle, and you can rest assured that the 2019 Heritage Classic has the equipment necessary to impress you on the road. By visiting our dealership near Laurel Bel Air Annapolis for an on-the-road experience, you can appreciate the power of its Milwaukee-Eight Big Twin engine, which is available in your choice of a 107 or 114 displacement design. The 2019 Harley-Davidson Heritage Classic features a racing-style fork with a high-performance suspension system in the front and linear damping features. In addition, it has a rear mono shock, anti-lock brakes, cruise control, electronic sequential port fuel injection, dual shorty exhausts with a catalyst in the muffler, a chain-style drivetrain and a 4-piston fixed front caliper with a 2-piston rear caliper. You can check out the capabilities of the 2019 Harley-Davidson Heritage Classic near Laurel with assistance from our courteous and well-informed sales reps.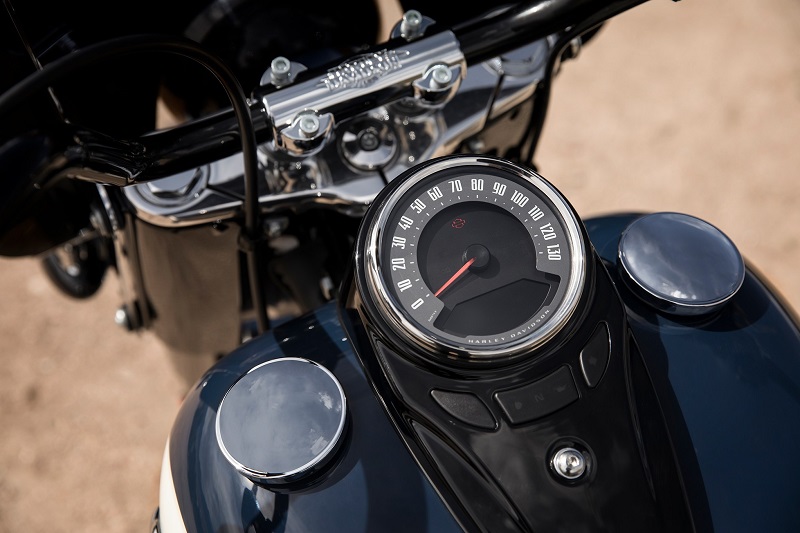 Exceptional Convenience Features
When you contact Harley-Davidson of Baltimore serving Laurel Maryland and beyond, you can get more details about the exceptional standard features that your new Heritage Classic comes with. These features include a digital instrumentation gauge with an analog-like style, one-touch open saddlebags with a lock, a detachable windscreen, a security system, high beams, a low oil pressure indicator, auxiliary lighting, engine diagnostics, a clock, a trip computer, a fuel range indicator and several other features.
Personalization Options
Motorcyclists like you in and near Laurel Bel Air Annapolis crave the exhilaration and performance capabilities that the 2019 Harley-Davidson Heritage Classic provides, but you also desire a motorcycle that perfectly reflects your individuality. Our sales agents serving Laurel Maryland and beyond are ready to tell you about the dozens of customization options available for this year's Heritage Classic. These include a short and upright sissy bar with chrome accent, a detachable sport rack, a layback LED tail lamp, an upgraded passenger footboard, an upgraded timer cover, a smooth air cleaner cover, a chrome engine guard, reach handlebars, polished brake rotors, a chrome engine guard kit, a padded passenger backrest, a chrome docking hardware kit, a hand control lever kit, upgraded hand grips, upgraded LED lighting in the front and rear, cannon mufflers and other options. Our team is available to answer your questions about all of the accessories designed specifically for use with the Heritage Classic model, and we can install them for you as well.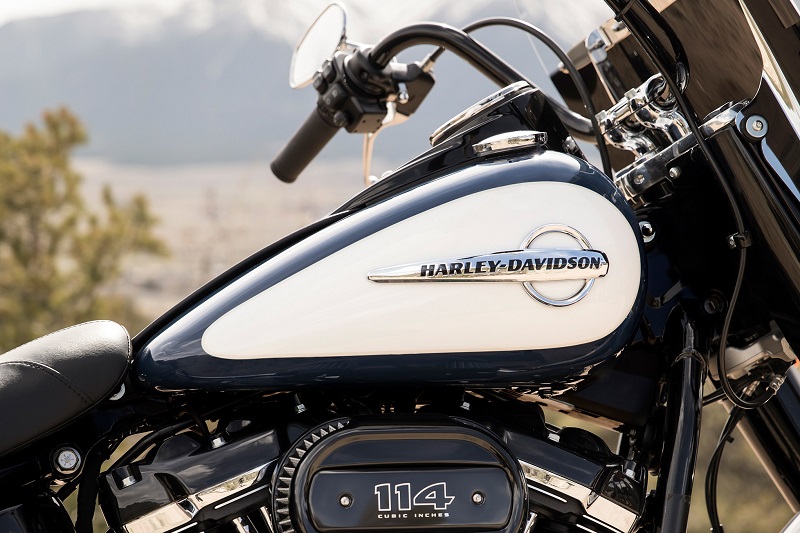 The 2019 Harley-Davidson Heritage Classic near Laurel brings to life the experience you crave on the road, and we are thrilled to have the opportunity to assist with your test ride and motorcycle selection. Now is a great time to contact Harley-Davidson of Baltimore for more information about the new Heritage Classic and for assistance with your upcoming purchase.