New Harley-Davidson 2019 Harley-Davidson Road King FLHR serving Delaware for Sale in Baltimore, MD
2019 Harley-Davidson Road King FLHR serving Delaware
View Inventory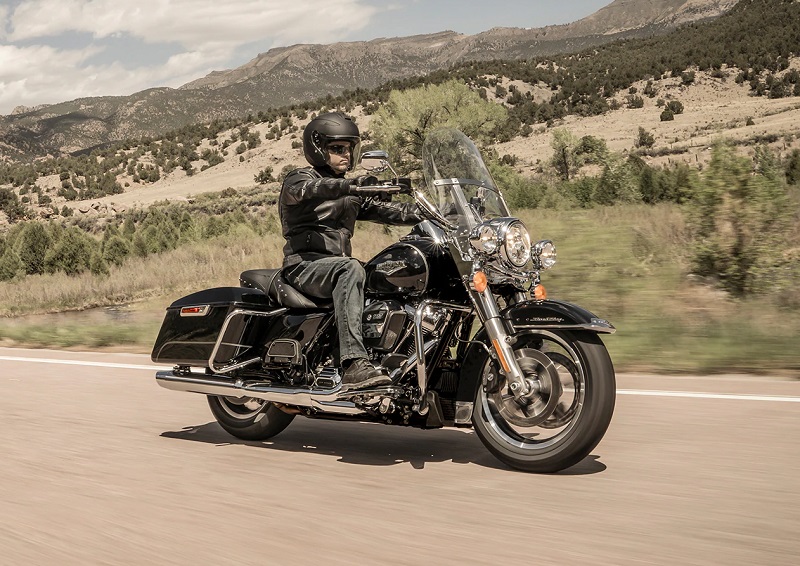 2019 Harley-Davidson Road King FLHR serving Delaware
If you are looking for a Harley-Davidson motorcycle that can take you the distance in style, the 2019 Harley-Davidson Road King FLHR should be at the top of your list. The bike has the iconic style of the Harley-Davidson brand as well as modern elements from front to rear. While it is one of the more affordable options currently available in the Touring class, this bike is not a stripped-down or basic version. A closer look at its features and performance capabilities reveals that the Road King FLHR for 2019 delivers a superior on-the-road experience. Our Harley-Davidson dealership serving Delaware is your local source for more information about this model and for a test ride.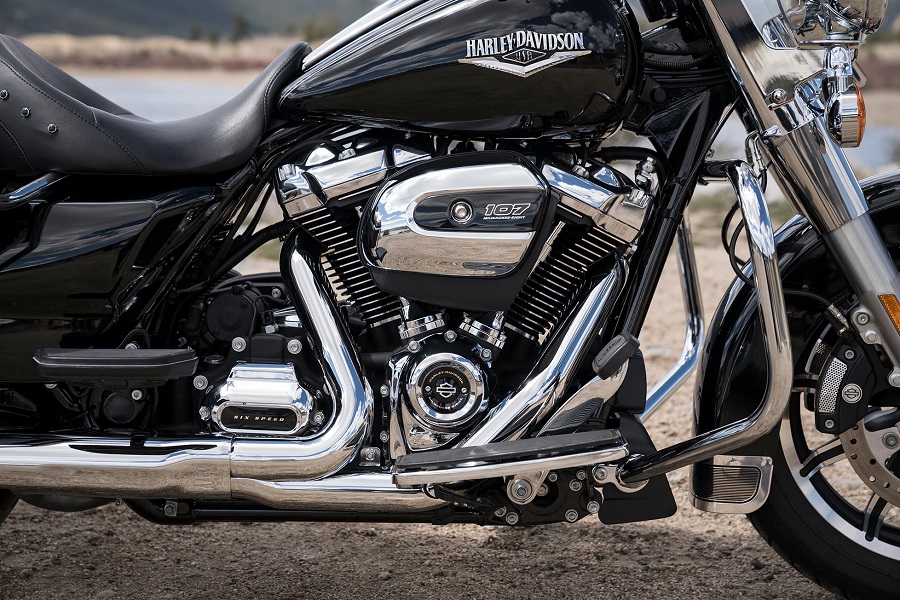 A Modern Spin on Classic Style – 2019 Harley-Davidson Road King FLHR
The Touring line from Harley-Davidson is designed to have a dominating presence on the road without sacrificing the iconic aesthetic elements that the brand is known for. At our established dealership serving Delaware, you will notice that the Road King FLHR's front and rear wheels are spaced slightly farther out than some of the other Harley-Davidson models available today. This stance is combined with a lowered ride and raised handlebars to give you a commanding feeling as you cruise down the road. As you admire the Road King FLHR's profile, the elongated dual chrome exhaust pipes that stretch to the bike's rear will catch your eye. This chrome combines with chrome handlebars and exposed engine components to create stunning contrast with the rest of the bike. Color options for the Road King for 2019 include kinetic green, barracuda silver, wicked red and vivid black. At the front end, a Hiawatha-style nacelle sits atop a chrome fork, and this fades into a horizontal fender. Both the front and rear wheels feature metal spokes that radiate from an industrial inner design element and are made from impeller cast aluminum. The black seat boasts deep contouring for comfort with design accents for personality. While sitting on the bike, you can appreciate the functionality of the wind guard and the classic look of analog gauges outlined in chrome. Large, hard-cased saddlebags at the rear complete the look while providing superior functionality.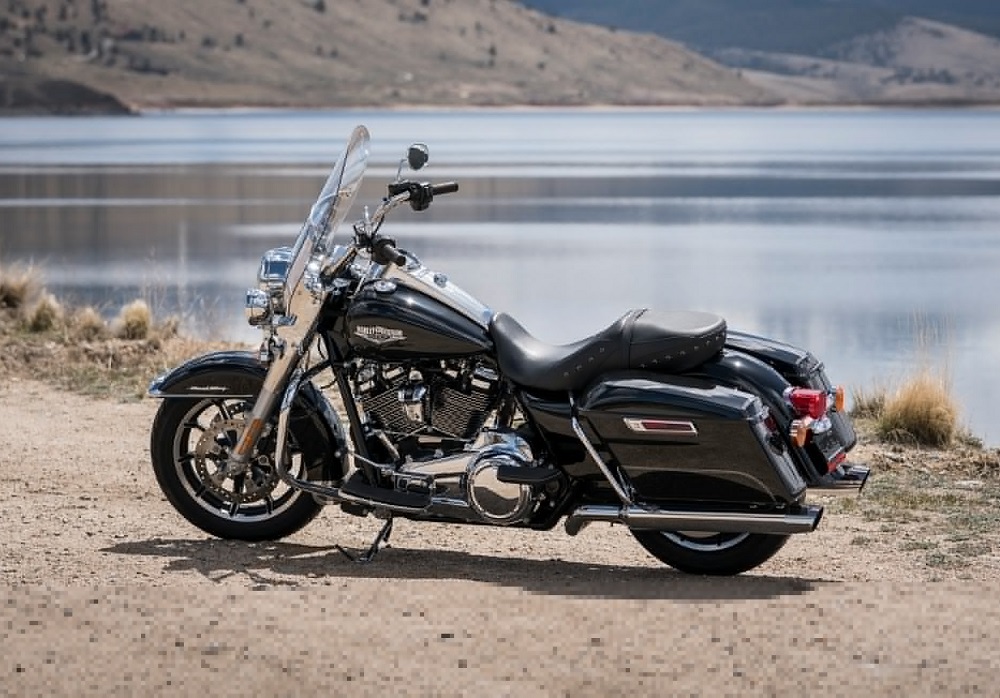 Steady, Powerful Performance – Harley-Davidson Road King FLHR
When you cruise down the road in Delaware and beyond on your 2019 Harley-Davidson Road King FLHR, you can appreciate the raw power of this well-designed bike. The bike's power comes from a Milwaukee Eight 107 v-Twin powertrain. Using regular unleaded gas with Electronic Sequential Port Fuel Injection, it generates rapid acceleration for a responsive feel at the handlebars. The performance of the 2019 Road King FLHR is enhanced by numerous mechanical features that combine to enhance control while delivering a smooth ride. The rear shocks and high-performance rear suspension system are both adjusted by controls mounted to the handlebars. These are combined with front and rear Brembo bakes that are electronically-controlled for enhanced functionality. They can be combined with optional anti-lock brakes. Other essential mechanical features that enhance your time on the Road King FLHR for 2019 include an engine warning system, running lights, onboard diagnostics, tapered mufflers and optional cruise control. When you stop by our dealership serving Delaware customers, you can test the performance of the 2019 Road King FLHR to gain first-hand appreciation for its capabilities.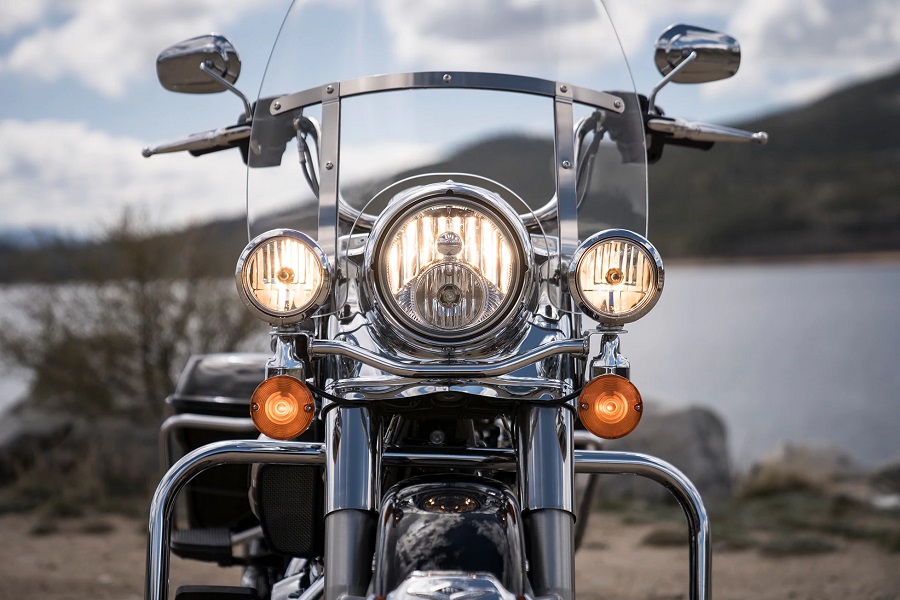 Thoughtful Standard and Optional Equipment – 2019 Harley-Davidson Road King FLHR
The new Road King FLHR for 2019 promises to impress you at every turn. It comes with several thoughtful features as standard equipment as well as the ability to upgrade it with your choice of options. Some of its standard equipment includes high beam lights, a low fuel warning, a security system, a directional light bar, a trip computer, a gear indicator and more. At our Harley-Davidson dealership in Delaware, our sales team can show you some of the many optional parts that have been designed specifically for installation on this bike. Add-on parts can improve the functionality of your bike and update its style with individuality. Some of the many optional accessories that you can choose from include muffler clamps, enhanced turn signals, several sound systems, upgraded wheels, stunning paint features, several saddlebag designs, fender options, handlebars, footrests, seat styles, lamp mounts and more. With these and numerous other accessories and options available, you can easily create the ideal look for your Road King before you ride it home. You can also visit us periodically to make updates at any time throughout your ownership.
The 2019 Road King FLHR from Harley-Davidson is the Touring model that you have been searching for. By visiting our dealership serving Delaware soon, you can admire its iconic elements as well as its modern features and impressive performance capabilities. To schedule a test ride or to get more information about the new Road King FLHR, contact our Delaware-area sales team for assistance.