New Harley-Davidson 2019 Harley-Davidson Road King Special in Baltimore MD for Sale in Baltimore, MD
2019 Harley-Davidson Road King Special in Baltimore MD
2019 Harley-Davidson Road King Special
With dozens of Harley-Davidson models available to choose from, you can expect each model to provide you with a unique experience on the road. For motorcyclists who are searching for a stunning bike that delivers an impressive driving performance and that has all of the features necessary for comfort across the miles, the 2019 Harley-Davidson Road King Special is a top option to take a closer look at. The Road King Special is included in the brand's Touring line as a mid-level option. Its style perfectly epitomizes the iconic brand's reputation, and it is equipped with the features and powertrain equipment necessary to live up to your highest expectations. During your visit to Harley-Davidson of Baltimore serving Rosedale Laurel Frederick Gaithersburg, you can take this bike out for a spin to gain full appreciation for its capabilities.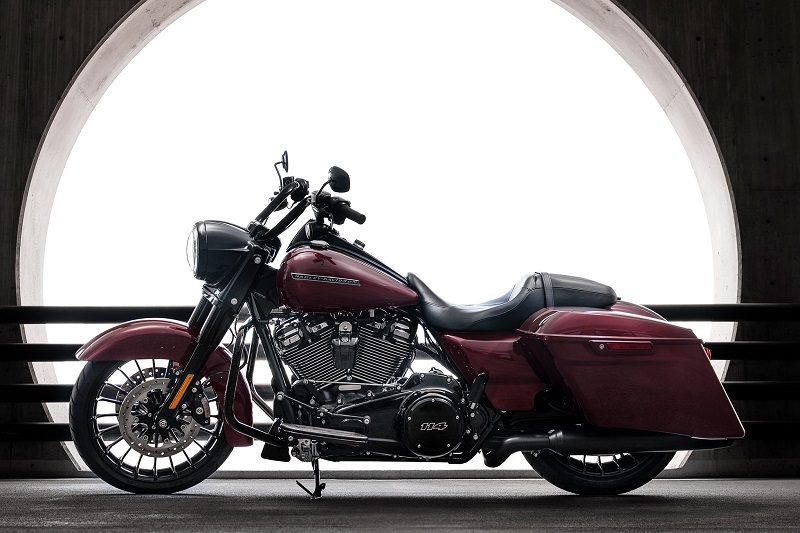 Muscular Style
The 2019 Harley-Davidson Road King Special in Baltimore has the length that you would expect from a touring bike as well as mini-ape bars and a slightly curved seat. With its low profile, these features enable you to fully in control of this aggressive bike while you cruise around town. While many Harley-Davidson models have extensive chrome mechanical features as muscular accents, the Road King Special has blacked out the exposed mechanical features. An enlarged, rounded headlight has a black case, and the lack of a windshield ensures that you enjoy fresh breezes whipping around you while you head down the road. The black turbine wheels on the front end are maneuvered via an extended black fork. At the rear, the Road King Special has hard-covered saddlebags with a stretched appearance that flares outward at the bottom. There are five stunning colors available for you to choose from, and these include scorched orange with black denim, midnight blue, Bonneville salt pearl, vivid black and twisted cherry. Our dealership serving Rosedale Laurel Frederick Gaithersburg provides you with a convenient way to check out the color options and to experience all that this bike offers on the road.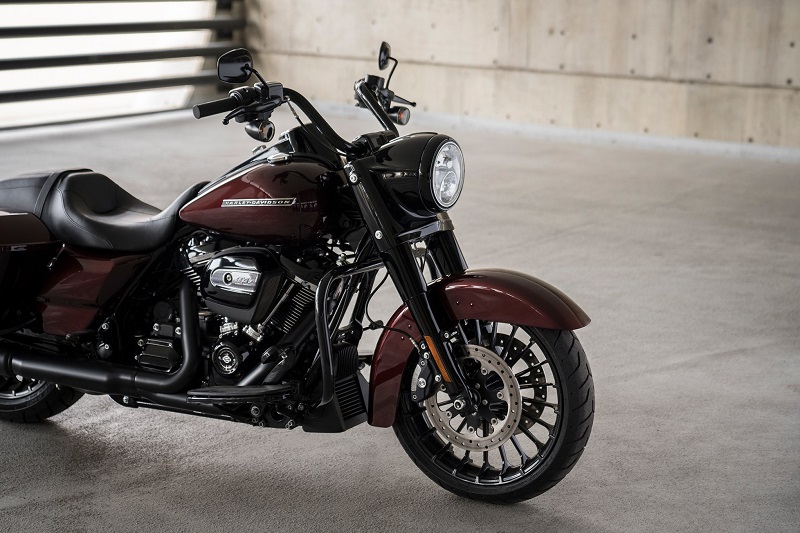 Commanding Features
Before you decide to take home the 2019 Harley-Davidson Road King Special in Baltimore, you understandably want to ensure that this bike has the full range of features that are necessary for your comfort on the road. This is a model that is designed to take you the distance in comfort, and it boasts a comfortable seat with ample curvature as well as easy-access cruise control tabs mounted to the handle. For safety, it comes with daytime running lights as well as a directional light bar and high beams. The analog gauges are easy to ready, and they provide critical information about the engine status, fuel level, battery power and more. Digital readings are available for the gear indicator as well as for mileage for multiple trips. You can see that the 2019 Harley-Davidson Road King Special gives the rider easy access to all of the controls and features that are necessary for comfort on the road without loading the bike with frivolous frills.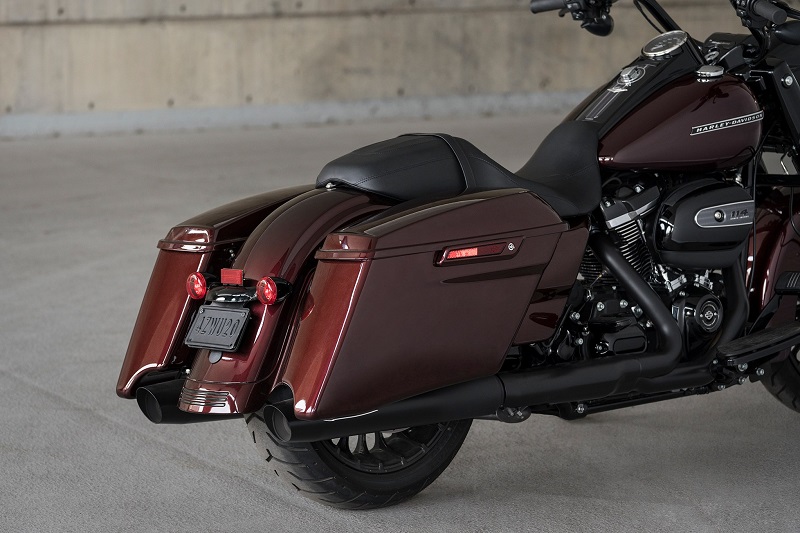 A Smooth, Powerful Ride
As a touring model, the 2019 Harley-Davidson Road King Special in Baltimore has the powertrain and mechanical features necessary to deliver impressively smooth performance without sacrificing on power. The bike is powered by a Milwaukee-Eight 114 engine that offers 112 foot-pounds of torque. As you travel across any type of road surface, you can expect to feel comfortable thanks to a high-performance suspension system and rear shocks that are controlled by hand grips. The Reflex-linked Brembo brakes are directly connected to give you full control of braking function, and optional anti-lock brakes add to your excellent time on the road. A few other critical features in the Road King Special are a chain drivetrain, dual exhaust pipes with tapered mufflers and electronic sequential port fuel injection with a locking fuel cap. Our sales team at Harley-Davidson of Baltimore can get you on the back of Road King Special soon for a test ride so that you can appreciate this model's performance features through first-hand experience.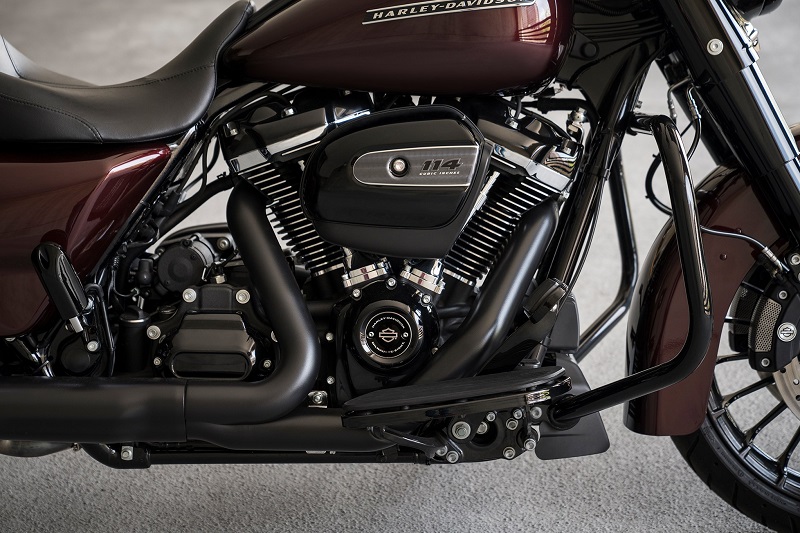 Personalizing Your New Road King Special
Because you may plan to spend so much time riding on your new Road King Special, it makes sense to deck this bike out with personalized accessories. Harley-Davidson offers dozens of add-ons that can take your time on this bike to a new level in different ways. Some of the many customization options include a chrome handlebar cover, a classic saddlebag kit, a switch cap kit, various light kits for the saddlebags, limited edition paint, turn signal caps or extension caps, LED taillamps in different colors, a chopped engine guard, various styles of footrests, a SiriusXM satellite radio kit, curved license plate frames, a detachable windshield or wind splitter, a fender adapter, a fog light kit, various seat styles and more. When you visit the dealership serving Rosedale Laurel Frederick Gaithersburg, our sales associates can help you to select the right combination of accessories to enhance your experience with your new Road King Special.
Now that you know more about what the 2019 Harley-Davidson Road King Special offers, you may be excited to take one home. Harley-Davidson of Baltimore is your local source for access to all of our models. We provide each customer with friendly, attentive service, and we are focused on getting each customer onto the model that is best for their unique needs. Stop by at any time for immediate assistance with your motorcycle selection.