New Harley-Davidson 2019 Harley-Davidson TRI GLIDE ULTRA in Baltimore MD for Sale in Baltimore, MD
2019 Harley-Davidson TRI GLIDE ULTRA in Baltimore MD
2019 Harley Davidson TRI GLIDE ULTRA
Trike shoppers in or near Laurel Annapolis Frederick Bel Air may be hard-pressed to find a more well-appointed and powerful option than the TRI GLIDE ULTRA. This trike has been offered by Harley-Davidson since 2009. While it is one of two trike models available, it is the only touring trike offered by this reputable automaker. Harley Davidson of Baltimore is your preferred local source for access to this trike and all other Harley Davidson models available today. When you spend time learning more about what the 2019 Harley-Davidson TRI GLIDE ULTRA offers, you may be able to easily determine that this is the trike that you have been searching for.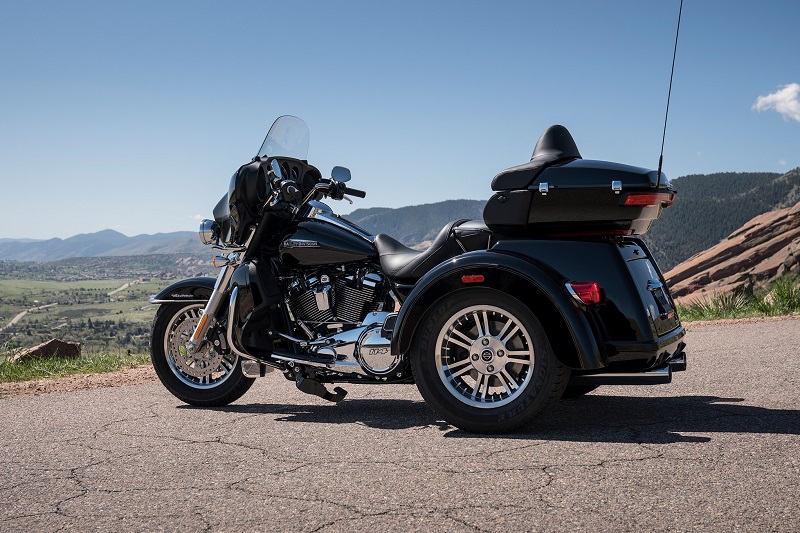 Memorable Style – 2019 Harley Davidson TRI GLIDE ULTRA
Harley-Davidson trikes and bikes have iconic class that makes them easily recognizable on the road, and many design elements in the TRI GLIDE ULTRA illustrate this brand's iconic style. Numerous chrome elements are found from front to rear, including the trim on two fog lights and a circular headlight in the front, dual exhaust tips in the rear and powertrain components throughout the body of the trike. This trike also has multiple touring elements that add to its style. For example, the batwing fairing in the front combines with a small windshield to create a streamlined look and to enhance functionality on the road. The fairing is enhanced by a split-stream vent that allows you to customize airflow and pressure while you are on the road. When you check out this trike at our dealership near Laurel Annapolis Frederick Bel Air, the two-person seating area will stand out to you. This black leather seat features a sunken driver's seat area with contouring as well as a small seatback. The passenger's seat is raised and has a comfortable seatback. The rear of the vehicle has more girth thanks to two wheels, two storage areas and classic rear fenders. A closer look at the 2019 Harley-Davidson TRI GLIDE ULTRA will reveal that this trike has the stunning style that you have been looking for.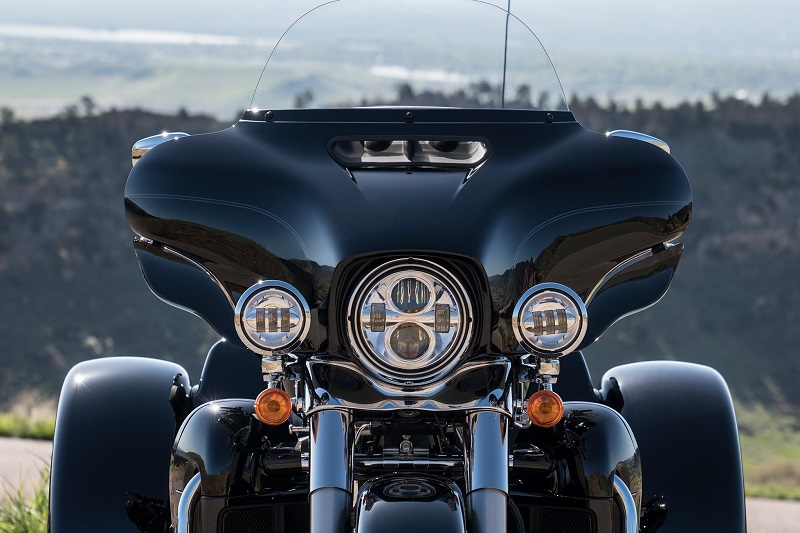 A Performance-Driven Trike – Harley Davidson TRI GLIDE ULTRA near Baltimore
You may think that you would sacrifice performance by hopping on a trike, but this is not the case when you choose a Harley-Davidson trike. The TRI GLIDE ULTRA gives you 121 foot-pounds of torque from a Twin-Cooled, 114 Milwaukee-Eight engine. This powerful engine is combined with numerous mechanical features to deliver a smooth, responsive performance on the road. Some of these additional features include performance-based tires, a cruise drive automatic transmission, an advanced touring suspension, traction control, ABS and electronically-linked brakes. Our sales team at Harley Davidson of Baltimore is excited to demonstrate the exceptional engineering that has been incorporated into this trike by taking you on the road for a test drive soon.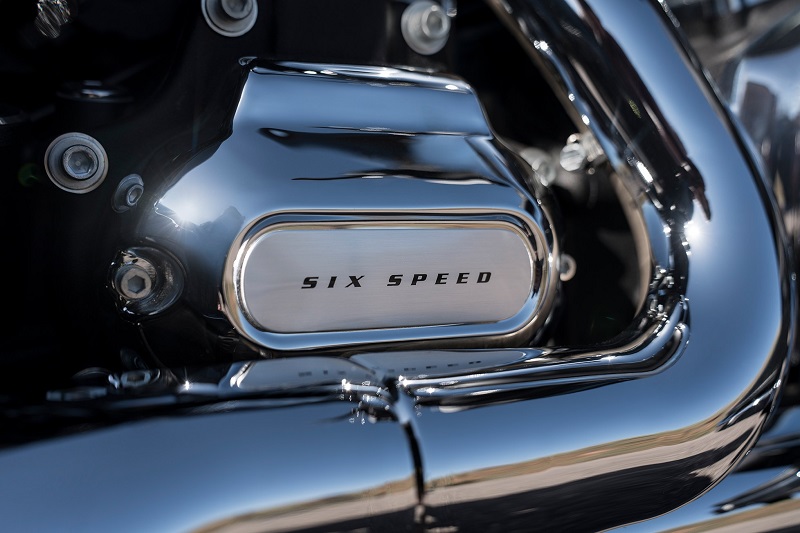 Desired Comfort and Convenience Features – Harley Davidson TRI GLIDE ULTRA near Baltimore
When you stop by our dealership near Laurel Annapolis Frederick Bel Air to take a closer looking at a touring trike, you understandably want to learn about its many comfort and convenience features. This is a trike that you may enjoy cruising through town in regularly, but it also has all of the features that you need for an exciting road trip. Your comfort on this trike begins with extra-thick, supportive cushioning for the driver and passenger seating area. A small driver's seatback and a full passenger's seatback give you the support that you need on long trips. Both the driver and passenger benefit from well-positioned foot rests, and the passenger also has grip bars to hang onto. There are two storage compartments in the rear. These include a luggage compartment as well as a 4.4-cubic foot trunk. The luggage compartment features storage pockets and a nylon liner. The driver also benefits from a windshield that offers protection on the road. A Boom! Box GTS system is accessible through a touchscreen display. It offers controls for the climate control, sound, navigation and Bluetooth systems. In addition to these standard features, you can also add upgrades for additional comfort and convenience.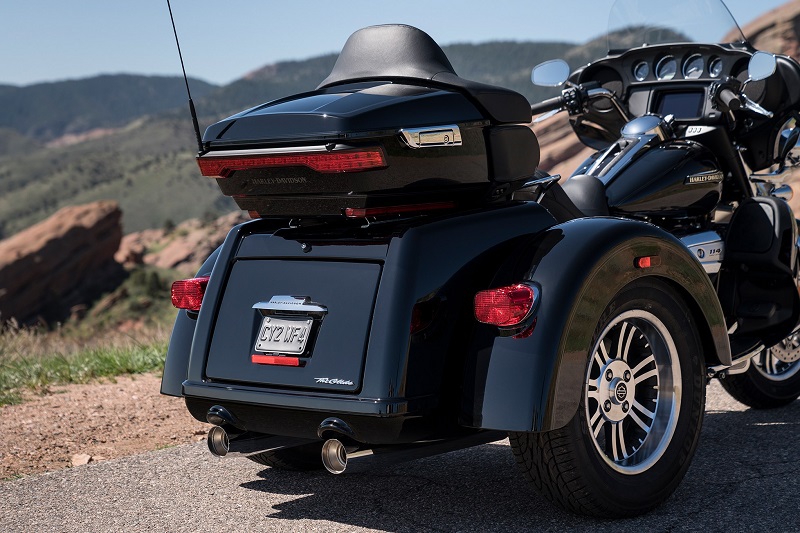 Trike Customization Capabilities – 2019 Harley Davidson TRI GLIDE ULTRA dealer
The 2019 Harley-Davidson TRI GLIDE ULTRA is well-appointed with numerous standard features, and there are also dozens of accessories that you can add to your trike for personalization. The first customization decision you will need to make is for the exterior color. Several single colors or two-tone color combinations are available. These include kinetic green, silver flux with black fuse, midnight blue with barracuda, scorched orange with black denim and a few others. Before you drive home on your new trike, consider requesting the installation of preferred accessories. Some of the accessories that are available for your trike include bar and shield LED taillights, mud flaps, lower fork sliders, upgraded tire and wheel options, outdoor and indoor trike covers, passenger armrests, a speaker kit, illuminated fascia accent trim, a switch cap kit, wheel cover kits, air wing fender rails, batwing inner fairing, a cool flow fan, saddlebags, a trunk door organizer, a retractable trunk door tether, exhaust trim and more. Accessories can also be added to your trike at any time over your ownership period.
Buying a new touring trike soon is an excellent idea, and our sales associates at Harley Davidson of Baltimore are ready to answer your questions about the options so that you can pick out an option that you will enjoy driving for many years. Our sales team is available to set up a test drive appointment when you call or email us. You are also invited to visit at any time during business hours without an appointment.
*Article for general informational purposes. For complete details, please contact the dealership.