New Harley-Davidson 2019 Harley-Davidson Fat Boy in Baltimore MD for Sale in Baltimore, MD
2019 Harley-Davidson Fat Boy in Baltimore MD
2019 Harley Davidson FAT BOY
While Harley-Davidson has a huge line of motorcycles and trikes that meet a wide range of drivers' needs and wants, the Fat Boy is in a league of its own. The Fat Boy is in the Softail family of motorcycles. This family of bikes has a chassis that appears to have a rigid hardtail, but its unique design actual features a swinging arm paired with concealed springs. If you are in the market for a new motorcycle that has a muscular yet classic look and that delivers an amazing ride, the 2019 Harley-Davidson Fat Boy may be the ideal bike to take a closer look at. You can admire the design and capabilities of this motorcycle when you stop by Harley Davidson of Baltimore serving Laurel Annapolis Frederick Bel Air soon.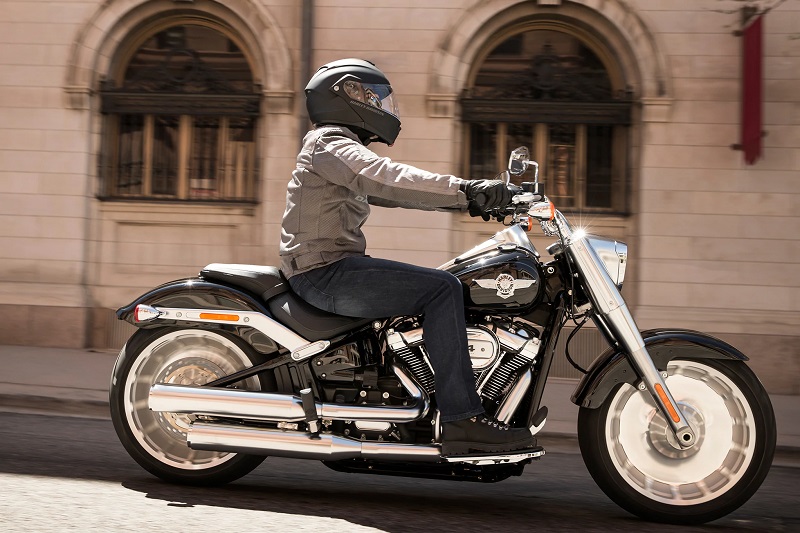 The Incredible Style – 2019 Harley Davidson FAT BOY
One of the reasons why many motorcyclists are drawn to the 2019 Harley-Davidson Fat Boy in Baltimore is because of its muscular, athletic style that pays tribute to the classic Softail design. The steel frame is lightweight yet superbly rigid, and this enables an incredible on-the-road performance. In fact, the bike's weight is only 670 pounds. The shape of the frame has clean, traditional lines with a steamroller design that adds strength to its appearance. The front tire is accentuated by a Lakester wheel with a solid disc. Measuring at 160mm, it is the largest front tire offered as standard equipment by this brand today. The rear tire measures 240mm. The style is further enhanced by an LED light on the front end that has a classic look with a rounded rectangular shape in a steel frame. The massive engine remains visible to add emphasis to the bike's power, and it is accentuated by satin chrome finishes from front to rear. The best way to appreciate the incredible style of the Fat Boy is to stop by Harley Davidson of Baltimore serving Laurel Annapolis Frederick Bel Air soon.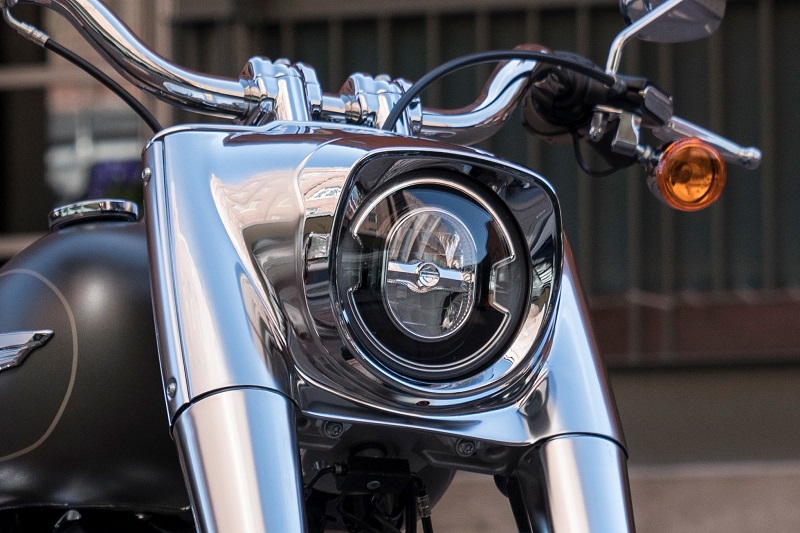 Impressive Performance – Harley Davidson FAT BOY near Baltimore
Harley-Davidson is among the most coveted brands in the motorcycle industry today, and one reason for this is because of the brand's reputation for producing high-performance bikes with undeniable style. When you climb onto the 2019 Harley-Davidson Fat Boy during your test drive at our dealership, you will feel the rumble of a powerful Milwaukee Eight Big Twin engine. This is available in your choice of either a 107 or a 114 displacement. It offers up to 109 foot-pounds of torque. The powertrain has been designed to create a responsive ride with a sharp throttle. In addition to being loaded with this impressive powertrain, the 2019 Harley-Davidson Fat Boy in Baltimore also comes with a high-performance front suspension along with a cartridge fork to ensure that you enjoy a smooth ride across all road surfaces. This reduces weight on the front end while also providing you with the benefit of linear damping. The rear suspension features a mono shock design. This suspension serves the purposes of providing you with superior cornering and ensuring that the Softail design is carried on throughout the bike.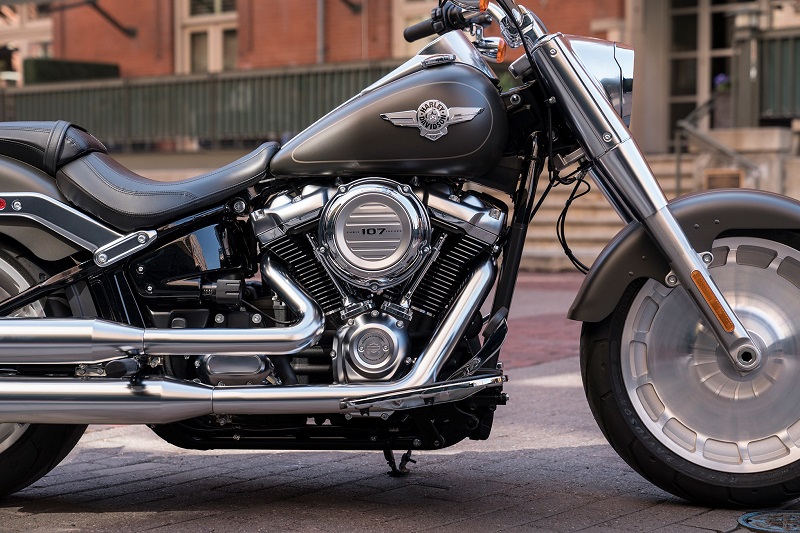 Thoughtful Features – Harley Davidson FAT BOY near Baltimore
The Harley-Davidson Fat Boy is sold with a full range of standard features that give you a comfortable experience on the road without creating an overly-frilled bike. This is a motorcycle that is designed for pleasure riding with its contoured, leather seat that has the ideal amount of curvature and support. The handlebars rise only slightly above the center console for an easy-reach experience. They have convenient braking controls on them, and small side mirrors are located above each handle. Feet can rest on horizontal bars that have a sure-grip design, or they can sit comfortably at an angle just above the horizontal bar as an alternative. The center console features analog dials for speed and other essential driver data. This analog design adds to the classic look of the vehicle.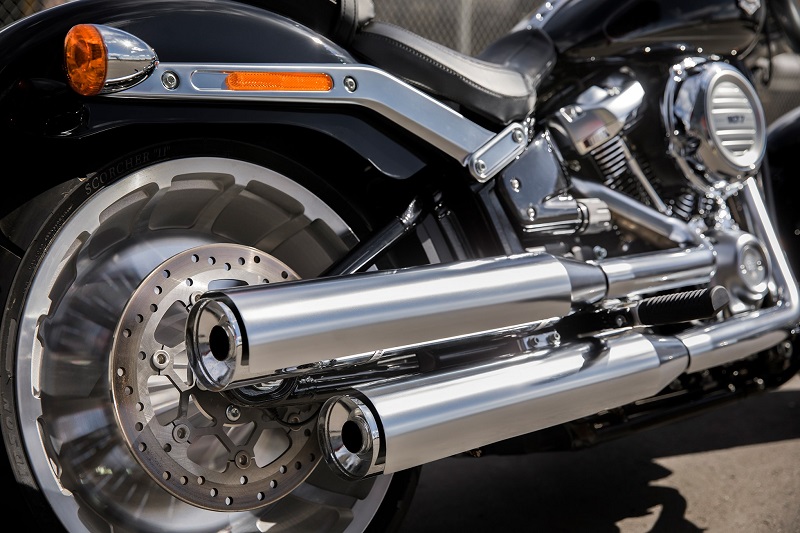 Customization Options – 2019 Harley Davidson FAT BOY dealer
While you can take home a 2019 Harley-Davidson Fat Boy straight off the lot, many motorcyclists enjoy the ability to customize their bike to their specifications. Customization options begin when you select your bike's color. Some of the many options include vivid black, industrial grey denim, wicked red, midnight blue, rawhide and others. Numerous accessories can be added to the Fat Boy for enhanced style, function, performance and fit. A few of the many accessories available for this model year include smoked turn signal lenses, a brawler solo seat, a chrome street slammer handlebar, an upper clutch cable, an upper brake line and brake line adapter, lower fork sliders, a floating brake rotor, heel-toe shifters and shifter covers, a rocker box cover and more. Many accessories are available in your choice of black, chrome and other colors for further customization. When you visit our dealership serving Laurel Annapolis Frederick Bel Air, you can get more information about customization capabilities for the new Fat Boy.
The style and performance of the 2019 Harley-Davidson Fat Boy in Baltimore are unrivaled in Softail design bikes. This is a motorcycle that you should view in person and test drive in order to fully appreciate what it delivers. If you are ready to get a closer look at this bike and to experience its power for yourself, reach out to Harley Davidson of Baltimore. You are welcome to drop in at any time during our normal business hours, or you can call us today to request an appointment.
*Article for general informational purposes. For complete details, please contact the dealership.