New Harley-Davidson 2019 Harley-Davidson Freewheeler serving Pennsylvania for Sale in Baltimore, MD
2019 Harley-Davidson Freewheeler serving Pennsylvania
2019 Harley Davidson Freewheeler
If you have plans to purchase a three-wheeler soon, the 2019 Harley-Davidson Freewheeler is a trike that you need to take a closer look at. Harley-Davidson originally introduced this trike to consumers several years ago, and it has made a few improvements to its design year after year. Today's Freewheeler is one of only two trike models offered by Harley-Davidson, and it has style, features and performance capabilities that make it difficult to resist. Compared to the other trike model, the Freewheeler trike features mini ape hanger handlebars as well as bobtail fenders for added flair. If you are ready to take a closer look at the 2019 Harley-Davidson Freewheeler near Pennsylvania, head to Harley-Davidson of Baltimore for friendly service from our sales team.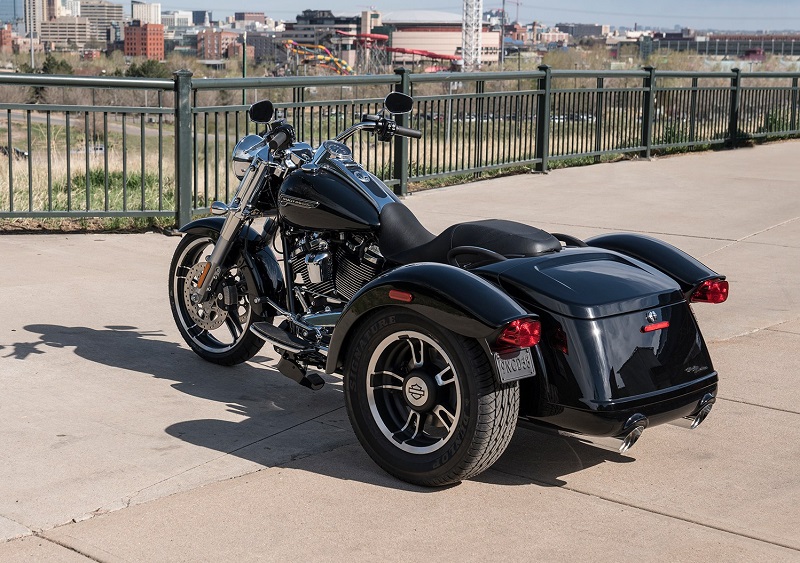 Iconic Style – 2019 Harley Davidson Freewheeler
Harley Davidson bikes and trikes notably have an iconic, powerful look, and this carries over into the Freewheeler for 2019. In fact, this trike is the perfect option for drivers who desire the stability of a three-wheeler without sacrificing in the area of style and power. On the front end, this bike features mini ape hanger handlebars that provide room to add an optional windshield. A rounded headlight nacelle with a chrome finish exemplifies the classic look of this vehicle. The chrome finish carries on through the front forks and throughout the sides of this trike. The 2019 Harley-Davidson Freewheeler also includes Enforcer wheels in cast aluminum and exposed brake rotors to create an industrial, aggressive look. At the rear of this trike, you will find the wheels covered by bobtail-style fenders, and a large cargo area with a smooth finish create a clean, modern look. To finish the rear design of the Freewheeler, you will find dual chrome mufflers with a slash-cut finish. When you stop by our dealership serving Pennsylvania customers, you can check out the style of the Freewheeler and select your preferred color from several options.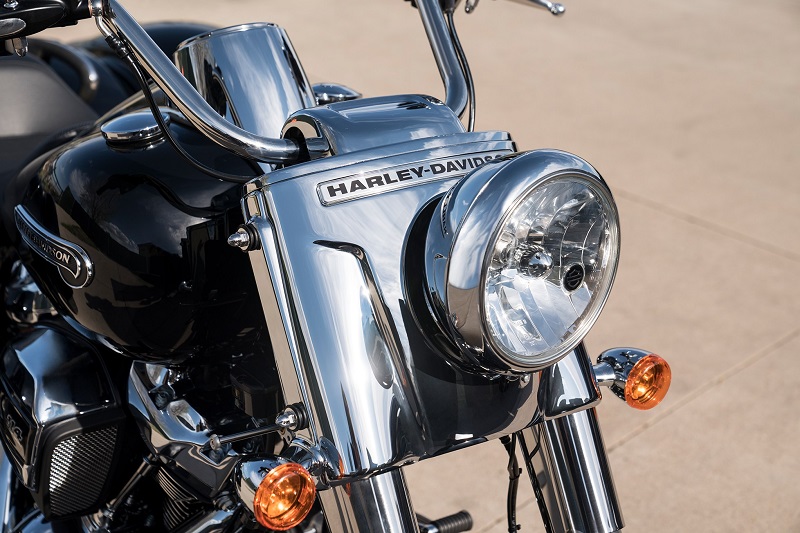 Impressive Performance Capability – Harley Davidson Freewheeler serving Pennsylvania
Our brand's trikes and bikes deliver powerful on-the-road performance through exceptional engineering, and you can experience the power of the Freewheeler when you visit Harley Davidson of Baltimore for a test drive. This trike is equipped with a 114-cubic inch, air-cooled Milwaukee 8 engine. Its V-twin design gives you 105 foot-pounds of torque, and it is combined with a forward-reverse six-speed transmission. Some of the other features on the 2019 Harley-Davidson Freewheeler near Pennsylvania include 49mm front forks, traction control, anti-lock brakes, a steering damper, a premium touring suspension and rigidity across the front end. Harley Davidson of Baltimore serving Pennsylvania is the place to go to experience this trike's performance capabilities.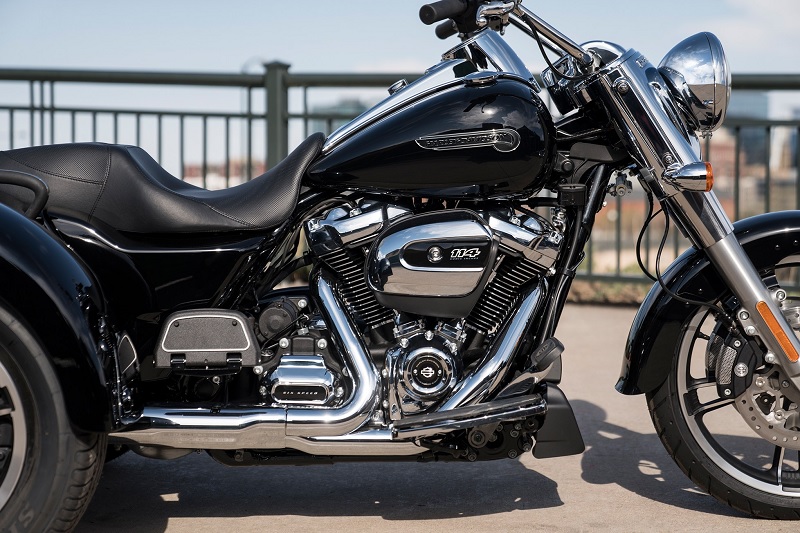 A Full Range of Features – Harley Davidson Freewheeler serving Pennsylvania
When you take a closer look at what the 2019 Harley-Davidson Freewheeler near Pennsylvania offers, its thoughtful features may jump out. This trike is designed to deliver pure driving enjoyment, but it also offers several comfort and convenience features to improve your time on the road. The rear storage compartment has a locking feature as well as an easy-open design for exceptional functionality. The compartment's size is suitable for storing two helmets, and its door uniquely opens to the side. The placement of the handlebars makes it easier for you to turn the trike, and the handles have a comfortable gripping material. The black leather seat has a comfortable, contoured divot for the driver and a raised seat for the passenger for improved visibility. Both the driver and passenger have footrests for safety and convenience on the road. Our sales team serving Pennsylvania is eager to tell you about these and other excellent features loaded into the Freewheeler for 2019.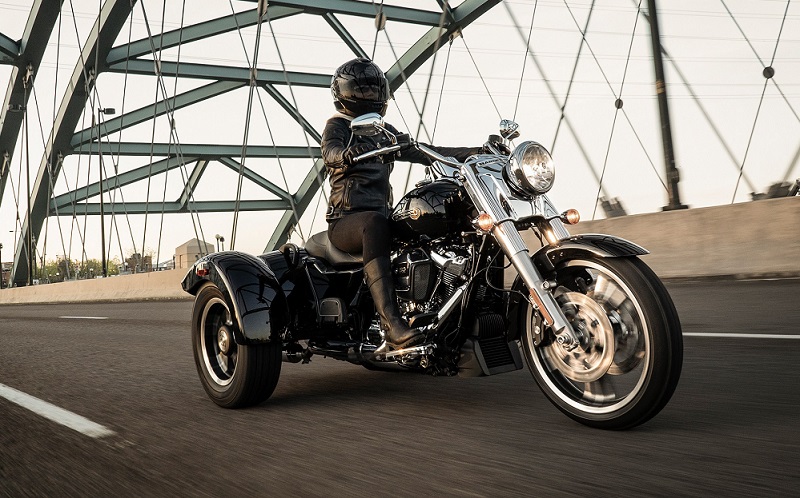 Optional Accessories – 2019 Harley Davidson Freewheeler dealer
All of our current vehicles are designed with easy customization in mind, and this includes its trike models. Optional accessories can improve function, performance, style and more. When you select your 2019 Harley-Davidson Freewheeler, you will need to choose your preferred color. A few colors that you can select from for this year's model include scorched orange, wicked red, blue max, white pearl and others. In addition to choosing your preferred color, you can request numerous additional features to be installed on your trike. These include a cool flow fan, upgraded tires, wheel center covers, turn signal extension caps, LED taillights, lower fork sliders, protective outdoor and indoor trike covers, a trunk guard, a switch cap kit, an engine guard mounting bracket, a detachable windshield in two size options, a sundowner seat, a quick-release sissy bar in multiple finishes, an air wing luggage rack and more. Keep in mind that you can also add accessories to your new Harley trike after you take ownership of it by ordering parts through our dealership.
Selecting a trike that lives up to all of your expectations is not easy to do, but a closer look at what the Freewheeler offers may convince you that this is the trike that you want to take home soon. Our sales associates at Harley Davidson of Baltimore are looking forward to meeting with you and telling you more about the standard and optional features for the Freewheeler. Contact us today for more details about the Freewheeler and to set up a test drive appointment. You may also drop in at any time during our business hours.
*Article for general informational purposes. For complete details, please contact the dealership.