New Harley-Davidson 2019 Harley-Davidson Heritage Classic in Baltimore MD for Sale in Baltimore, MD
2019 Harley-Davidson Heritage Classic in Baltimore MD
2019 Harley-Davidson Heritage Classic
With so many exceptional models available to choose from, picking out the right Harley-Davidson to take home soon is no easy feat. This brand has a legendary status among motorcyclists, and the Softail line perfectly embraces the classic look of the brand while incorporating modern touches throughout. The Softail line features ten models, and one of the higher-end models is the 2019 Harley-Davidson Heritage Classic. The unique style of this model takes advantage of the brand's nostalgic presence, and it offers standout performance with a few high-tech features that modernize your driving experience. When you stop by Harley-Davidson of Baltimore, you can meet with our well-informed sales professionals serving Rosedale Laurel Frederick Gaithersburg to get more information about availability and features.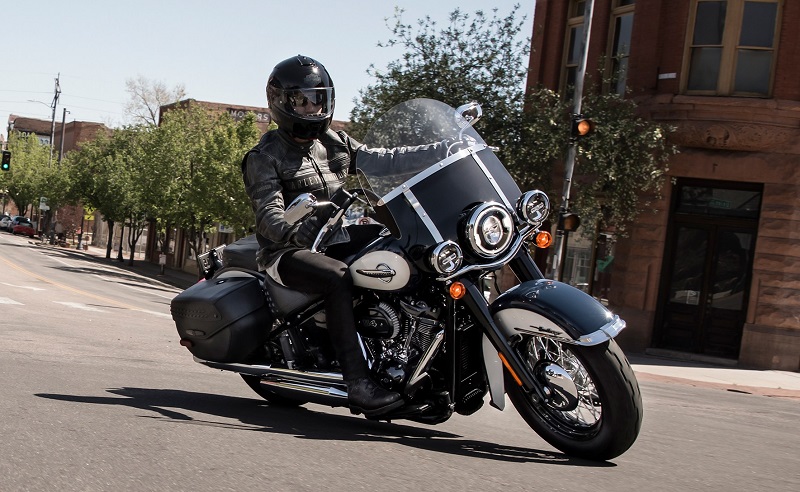 Head-Turning Style
While the 2019 Harley-Davidson Heritage Classic in Baltimore brings the iconic feel of the brand to life, there is nothing stale about this model's appearance. On the front end, a detachable windshield is mounted in a black and chrome design with accentuated bolts. This sits atop three circular headlights that give a nod to the brand's longstanding history. Chrome handlebars and elevated chrome side mirrors are prominent features that accentuate the look of the bike from a frontal perspective. The bike has a softail frame with chrome accents, an angular driver's seat, a level passenger seat and distinctive saddlebags. The black saddlebags have a locking mechanism as well as chrome bolt accents that correspond with the front windshield design. Seven color options are available, and these include twisted cherry with wicked red, vivid black, rawhide, billiard blue with white accent and several others. You can view all of the color options in person at Harley-Davidson of Baltimore.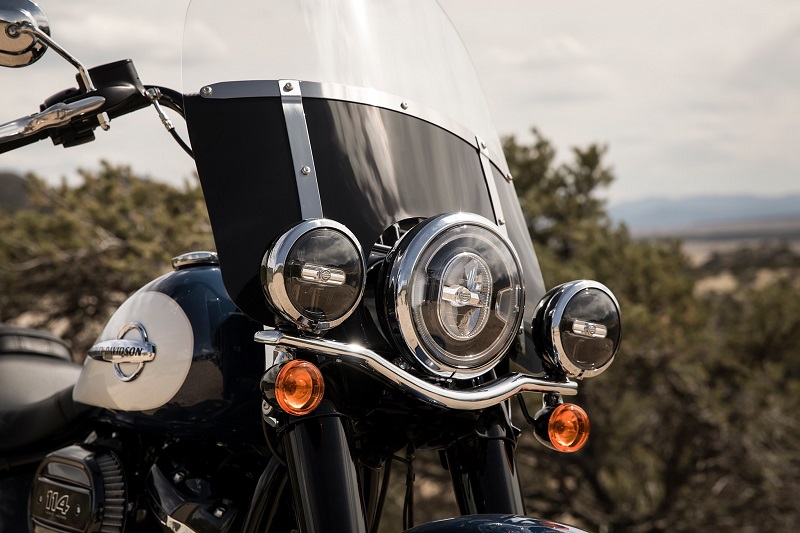 Vintage Features with Modern Functionality
By visiting Harley-Davidson of Baltimore to check out the Heritage Classic with a test drive, you will notice that its many functional features have a throw-back look with a modern edge. The driver's instrumentation gauge has a rounded appearance with a classic chrome finish, and the analog face has a few digital elements. This 5-inch feature gives you access to a fuel level reading, a clock, a gear reading, fuel range and more. The motorcycle also offers engine diagnostics, auxiliary lighting, turn signals, security features and a few other extras.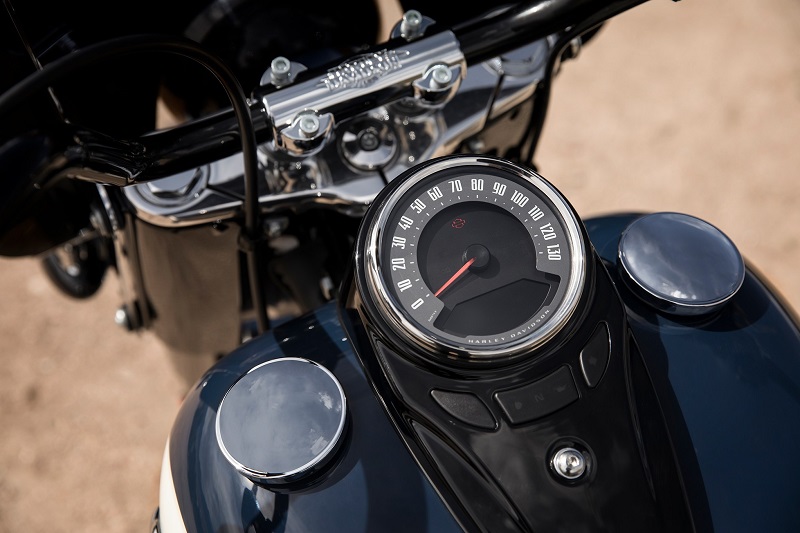 Responsive, Aggressive Performance
When you take home the 2019 Harley-Davidson in Baltimore, you understandably expect this motorcycle to impress you each time you cruise down the road. During your test drive at our dealership serving Rosedale Laurel Frederick Gaithersburg, your test drive will reveal that this vehicle has the engineering necessary to deliver unbelievable performance. A Milwaukee-Eight Big Twin engine powers the bike, and it is available with your choice of 107 or 114 engine displacement. This engine gives you 109 foot-pounds of torque. Performance is enhanced by a lightweight yet reinforced damping fork with a distinctive racing style, a high-performance suspension system and adjustable mono shocks in the rear. Other essential features that impact your time on the road include cruise control, anti-lock brakes, a chain drivetrain, two-into-two shorty dual exhaust pipes with a catalyst in the muffler, steel-laced wheels, fixed front and floating rear brakes with pistons and additional features.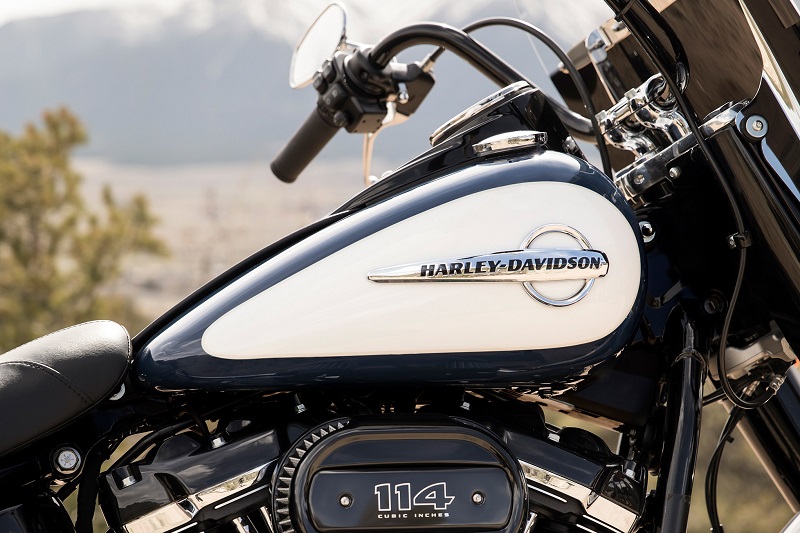 Accessorizing Your Heritage Classic
The 2019 Harley-Davidson Heritage Classic is well-equipped for serious motorcyclists who demand stellar performance with minimal frills, but you may wish to dress up your motorcycle with a wide range of available accessories. The manufacturer provides an extensive list of accessories that are designed to improve performance, comfort, style and other aspects of the bike to the rider's specifications. For example, your 2019 Harley-Davidson Heritage Classic in Baltimore may be enhanced by saddlebag guards, a passenger seatback, a passenger pavilion, a low rear suspension, a light bar with LED bullet turn signals, saddlebag travel bags, muffler shields, an exhaust shield kit, rider footboard inserts in various styles, a sundowner solo seat, a reach solo seat, a detachable windshield, chrome lower fork sliders, fuel tank bevels in various finishes, short or long street cannon mufflers, a sissy bar, an enclosed luggage pack, a branded air cleaner trim cap, headlamp trim pieces and many other features. The sales professionals serving Rosedale Laurel Frederick are available to help you explore the many accessories available so that your new Heritage Classic lives up to your high expectations.
The 2019 Harley-Davidson Heritage Classic has undeniable vintage class as well as the performance capabilities that you expect from this brand. This model is ideal for motorcyclists planning to cruise through urban areas with a passenger or on solo trips, and it is equally well-equipped for fun daytrips on the weekends. The Heritage Classic is a model that you should see in person and test drive in order to fully appreciate its capabilities. Make plans to visit Harley-Davidson serving Rosedale Laurel Frederick Gaithersburg soon so that you can get your questions answered by our team and take the bike out for a test drive.