New Harley-Davidson 2019 Harley-Davidson IRON 883 in Baltimore MD for Sale in Baltimore, MD
2019 Harley-Davidson IRON 883 in Baltimore MD
2019 Harley Davidson IRON 883
For motorcycle shoppers who are in the market for a no-frills bike that has iconic style and undeniable power, a Harley-Davidson sportster model is the right option to consider. The sportster family has been included in the automaker's line for decades, and the 2019 Harley-Davidson IRON 883 is included in the current lineup. The IRON 883 is among the more affordable sportster bikes today, making it a great option for many shoppers in Baltimore Maryland. Before you decide which motorcycle to take home, visit our sales team near Laurel Annapolis Frederick Bel Air to get more information about the new IRON 883 and to experience its power with a test drive.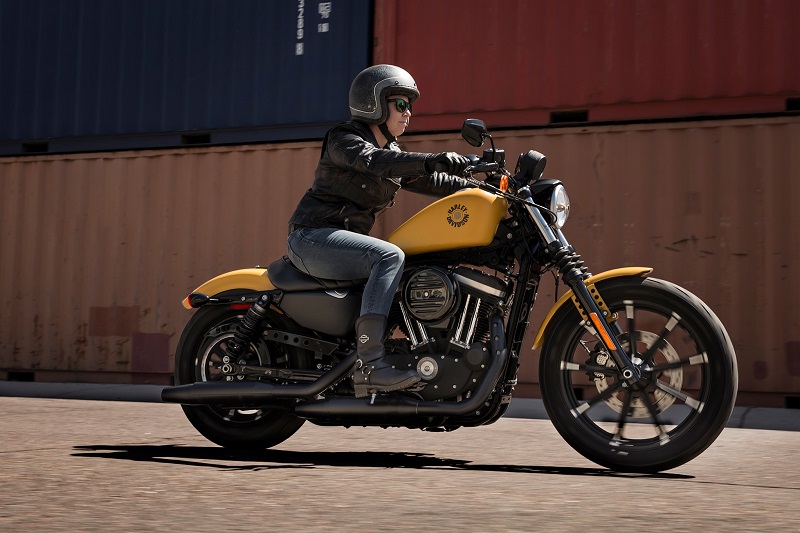 Raw, Aggressive Style – 2019 Harley Davidson IRON 883
Harley-Davidson is among the coveted motorcycle brands today. Producing bikes and trikes for many decades, this brand has an iconic status as well as a bold reputation. It is known for designing motorcycles that have undeniable performance that lives up to the standards set up their appearance. When you see the 2019 Harley-Davidson IRON 883 in Baltimore, you will see this automaker's reputation exemplified in a blacked-out style that gives you the raw experience that you desire. The front and rear wheels are outlined by shortened fenders that highlight the tires' girth. The black wheels have nine plain spokes to give the vehicle a machined or mechanical look. The engine has a black powder coating. Black rocker covers and black front forks complete the dark look of this bike. The black tuck-and-roll seat design is supportive to keep you comfortable on bumpy roads. A drag-style handlebar design offers easy maneuverability, and a single analog gauge sits between the handlebars for classic functionality. You can admire the impressive style of the 2019 Harley-Davidson IRON 883 when you visit our dealership near Laurel Annapolis Frederick Bel Air soon.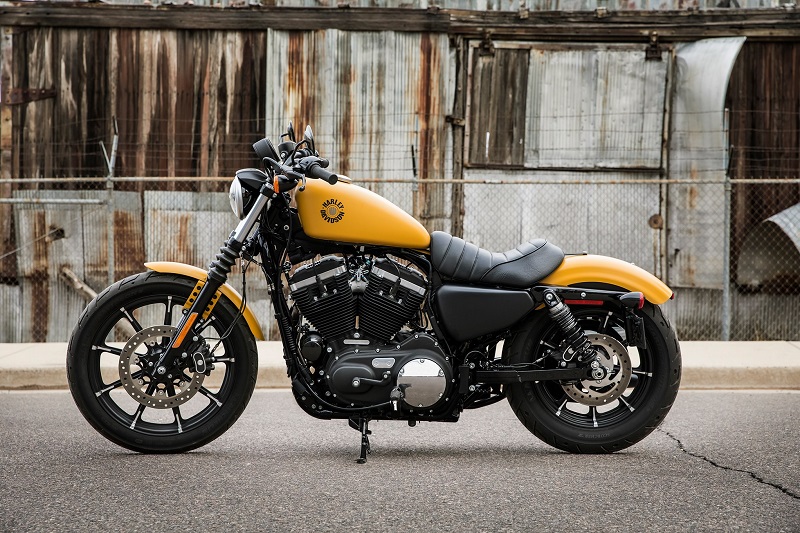 Unbeatable Performance – Harley Davidson IRON 883 near Baltimore
Test driving the 2019 Harley-Davidson IRON 883 in Baltimore will reveal that this sportster model has the impressive performance capabilities that easily live up to the standards set by its style. The bike is equipped with an Air-Cooled Evolution 883 cc engine. It gives off 53 foot-pounds of torque. Because the IRON 883 has a total weight of 545 pounds, you will find that this engine is more than capable of impressing you with its powerful performance. In addition to enjoying the power of the engine, you will also appreciate the smooth ride that is enabled by a lowered front and rear suspension. This close-to-the-ground design carries forward to the lowered driver's seat. You will notice that these factors give the bike a sporty, athletic feel as you cruise around in Baltimore Maryland. Our sales team near Laurel Annapolis Frederick Bel Air is ready to get you on an IRON 883 for a test drive so that you can compare it against any other models that you are interested in.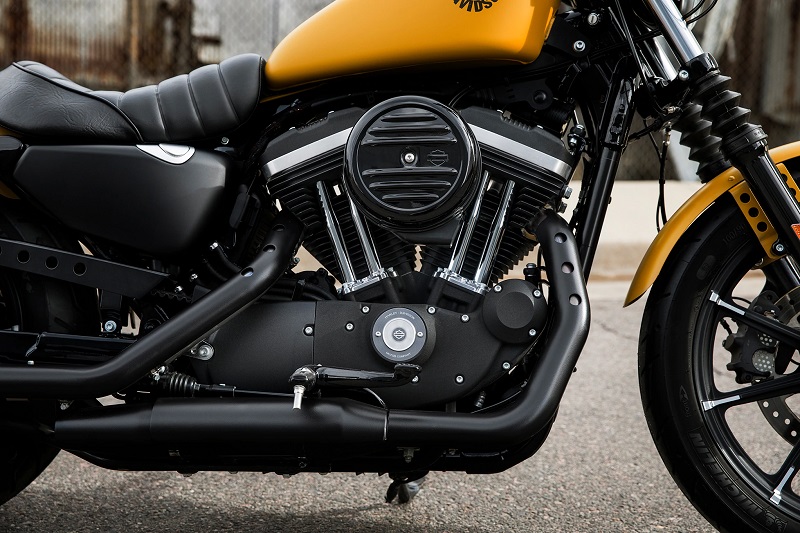 Exceptional Features – Harley Davidson IRON 883 near Baltimore
Compared to many other Harley-Davidson models on the market, the new IRON 883 sportster bike has all of the features that you need without being overly dressed up. This bike gives you a no-frills approach to riding a performance-based bike with its classic functionality. Its contoured leather seat offers the ideal amount of cushioning and support for comfort, and it can accommodate only the driver. Directly in front of the driver is a gas intake feature that is easy to access. The comfort-grip handles are ideally located to ensure easy maneuverability. Unlike other bikes that are loaded with buttons and controls on the handlebars, the 2019 Harley-Davidson IRON 883 in Baltimore has minimal enhancements on the handles. Sideview mirrors are well-placed directly above the handles, and a small analog gauge is located in a central location to enhance functionality. Simple footrests that do their job to enhance comfort on the road complete the list of features loaded onto this Sportster bike.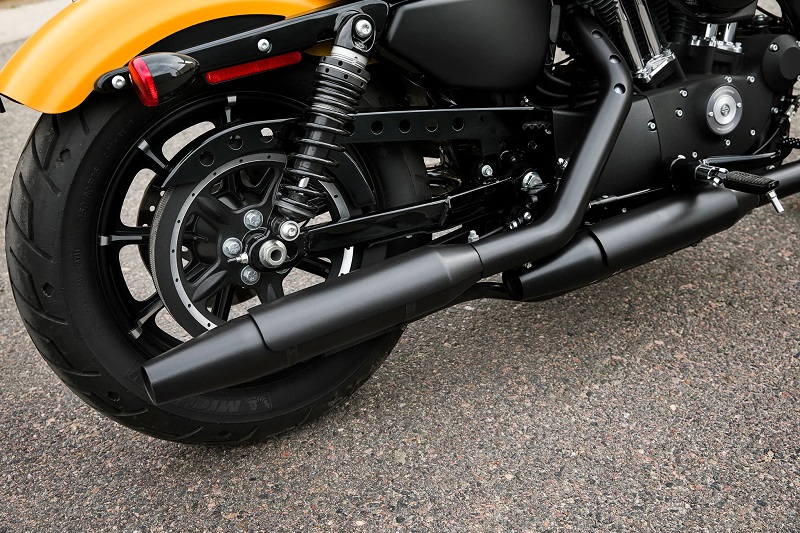 Numerous Personalization Options – 2019 Harley Davidson IRON 883 dealer
Our team in Baltimore Maryland is available to install a full list of accessories and features to customize your new IRON 883 to your specifications. We can also add accessories at any point in the future upon request. A few of the personalization options available for the IRON 883 for 2019 include a passenger pillion, a chopped fender edge light kit, a tank bra, a silencer foot peg kit with a styled wear peg, diamond black foot pegs, a clip-on handlebar kit, a fender luggage rack, a drag bar, a signature solo seat with a back rest, upgraded tires, a black custom tail, a handlebar riser kit, a fat riser kit, a brawler solo seat, upgraded wheels, a forward control kit, a wind deflector, slip-on mufflers and more. Keep in mind that you can also personalize your IRON 883 sportster bike with your exterior color selection. Options include black denim, industrial grey, wicked red, rawhide denim, rugged gold denim and silver flux paired with black fuse.
Before you decide which new sportster bike to take home, a closer look at the 2019 Harley-Davidson IRON 883 is in order. When you visit our Baltimore dealership soon, our sales associates will answer all of your questions about this bike and will get you on it for a test drive. This is the best way to experience all that the IRON 883 offers, and we invite you to drop in for a visit at any time during business hours. You can also contact us by email or phone to request more information and to make a test drive appointment.
*Article for general informational purposes. For complete details, please contact the dealership.