New Harley-Davidson 2019 Harley-Davidson TRI GLIDE ULTRA serving Pennsylvania for Sale in Baltimore, MD
2019 Harley-Davidson TRI GLIDE ULTRA serving Pennsylvania
2019 Harley Davidson TRI GLIDE ULTRA
Harley-Davidson introduced the TRI GLIDE ULTRA trike to consumers during the 2009 model year. Currently, this is one of two trike designs offered by this automotive company, and it distinctively is a touring model that is designed for comfort for up to two people. When you take a closer look at this trike when you visit Harley-Davidson serving Pennsylvania, you will notice that it is decked out with incredible performance and convenience features that make it a true pleasure to cruise around on. Our sales reps at Harley Davidson of Baltimore are available to answer all of your questions so that you can pick out the right trike for your transportation needs.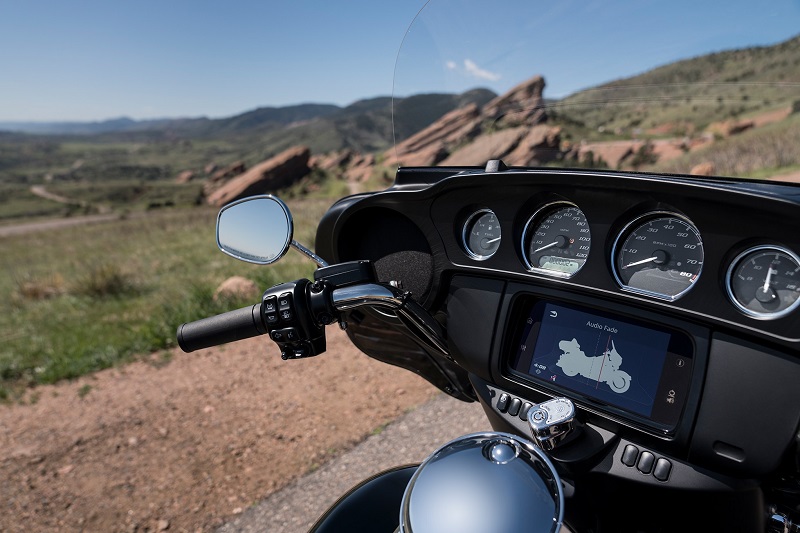 Undeniable Style – 2019 Harley Davidson TRI GLIDE ULTRA
When you visit our dealership serving Pennsylvania to check out the new TRI GLIDE ULTRA for 2019, you will notice that it combines the iconic, aggressive look that the brand is known for with an upscale edge that expresses its touring capabilities. From the front end, you can appreciate a circular LED headlight flanked by two smaller fog lights. These are integrated into an aerodynamic, air-splitting fairing design that conceals the comfort-grip handlebars. A small windshield adds to your excellent driving experience. In the fairing, a split-stream air vent provides you with the ability to adjust pressure and airflow with the push of a button. The black leather seat features a contoured driver's area as well as a raised passenger seat with a padded seatback. At the rear, an integrated trunk and a separate luggage storage space are flanked by rear fenders to add style and functionality to the trike. While you may choose to ride the TRI GLIDE ULTRA around town daily, you can see that this trike has the touring style that may inspire long-distance road trips. Harley-Davidson serving Pennsylvania is your local source for accurate information about this trike.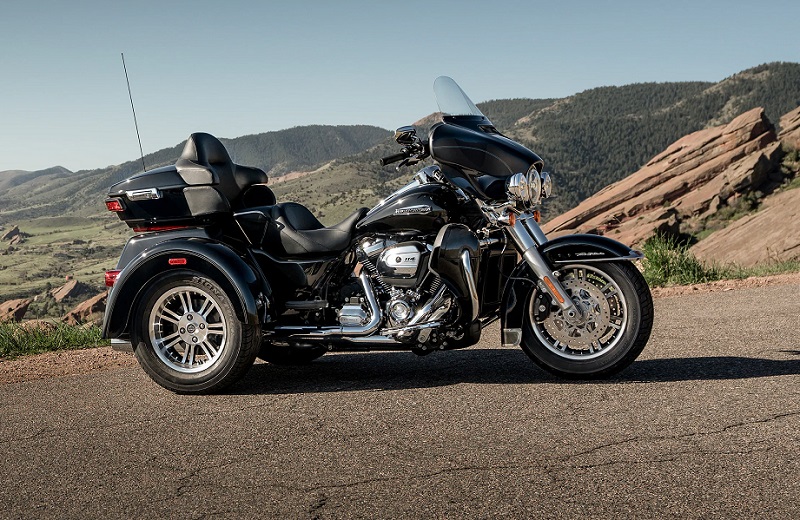 Well-Engineered Performance Equipment – Harley Davidson TRI GLIDE ULTRA serving Pennsylvania
The 2019 Harley-Davidson TRI GLIDE ULTRA is the trike to take home if you want to be pampered by touring-based performance and powertrain features. This trike is powered by a Milwaukee-Eight 114, Twin-Cooled engine that gives you 121 foot-pounds of torque. This powertrain is enhanced by ABS, electronically-linked brakes, a traction control feature, an advanced touring suspension, an automatic cruise drive transmission and performance-based tires. When you stop by Harley-Davidson serving Pennsylvania soon to take this trike out on the road, you will be able to appreciate its smooth yet powerful performance capabilities for yourself.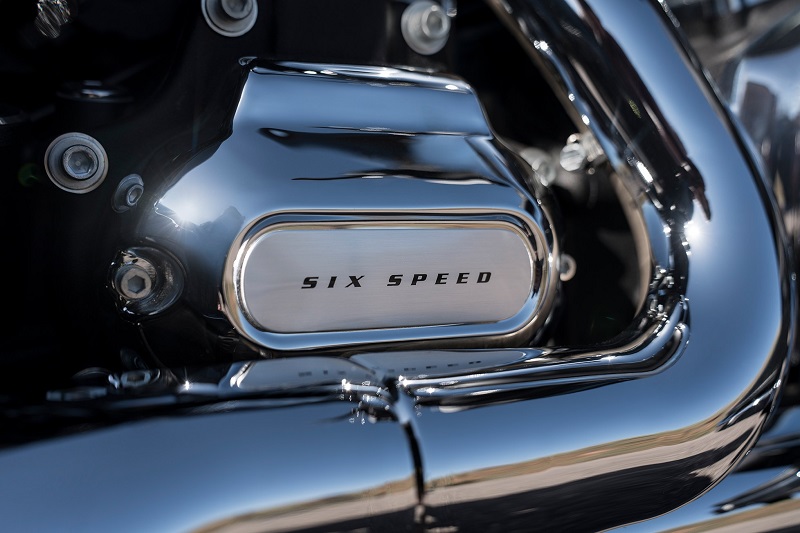 Touring-Based Features – Harley Davidson TRI GLIDE ULTRA serving Pennsylvania
Our Harley-Davidson sales associates serving Pennsylvania will demonstrate a full range of touring-based features that are loaded into the 2019 Harley-Davidson TRI GLIDE ULTRA. These features begin at the rear with two separate cargo areas. A trunk is located directly above the two chrome exhaust tips, and it gives you 4.4 cubic feet of storage space. Sitting on top of this trunk is a luggage compartment that comes with a nylon liner and several storage pockets. The passenger benefits from a cushioned seatback and handlebars, and the driver has a small seatback for added support. The standard windshield blocks the driver from wind and debris on the road. Adding to your comfort on the road is a Boom! Box GTS infotainment system that provides the driver with easy control of the sound system, the climate control system, the navigation system and hands-free calling. For shoppers who are in the market for a touring trike, this is the Harley-Davidson vehicle that may be well-suited for your transportation needs.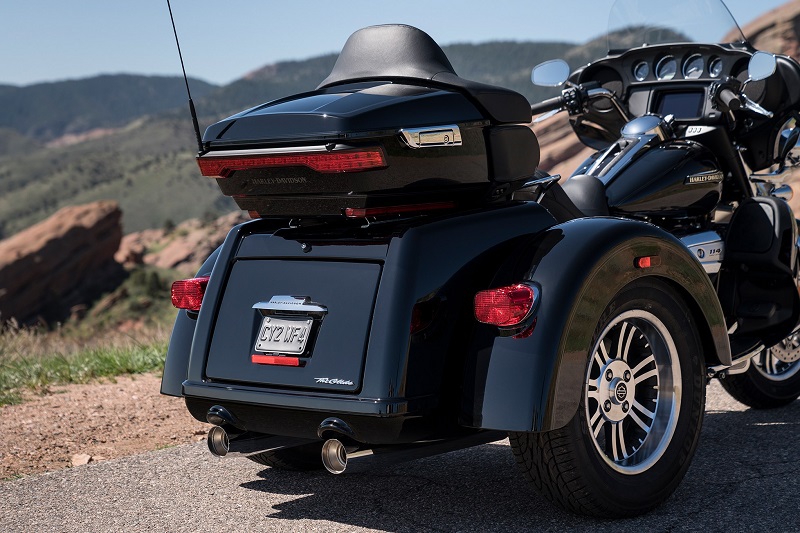 Personalization Options – 2019 Harley Davidson TRI GLIDE ULTRA dealer
If you are ready to take home the 2019 Harley-Davidson TRI GLIDE ULTRA soon, you may be curious about the many customization options available for it. As is the case with all bikes and trikes produced by this automaker, you have multiple exterior color options available to choose from. Some of the single and two-tone options include silver flux with black fuse, kinetic green, scorched orange with black denim, midnight blue with barracuda silver and more. Your sales rep serving Pennsylvania is ready to tell you about some of the many accessories and add-ons available for your new trike. These include a speaker kit, a switch cap kit, illuminated fascia accent trim, batwing winner fairing, saddlebags, a retractable trunk door tether, a trunk door organizer, mud flaps, exhaust trim, air wing fender rails, bar and shield LED taillights, upgraded tire and wheel options, passenger armrests, lower fork sliders, indoor or outdoor trike covers, wheel center cover kits, a cool flow fan and numerous other features. Our team at Harley Davidson of Baltimore is available to install your preferred accessories to your new trike before you drive it home for the first time, or you can return periodically to continue to make upgrades as desired.
If you are ready to get serious about your goal to take home a new trike soon, make plans to visit Harley Davidson of Baltimore soon. The TRI GLIDE ULTRA is the ultimate touring trike that delivers in the areas of performance, comfort and convenience, and it can also be customized to your specifications. Our sales associates are available to answer all of your questions about the TRI GLIDE ULTRA for 2019 and to get you out on the open road for a test drive. Call or email us today to schedule a test drive visit, or drop in at your convenience during our operational hours throughout the week for immediate assistance.
*Article for general informational purposes. For complete details, please contact the dealership.